Sunday, 16 December 2012 MEETING
Our next meeting will be: at the RESTAURANT TO BE DETERMINED AND ANNOUNCED. Look for us in their back room, so please look for us..
Guest Speaker
Our guest speaker will be Tim Reed (Music Composer, Singer, Music Producer, Performer, Actor, Publisher), will be speaking to the club and discuss his entertainment career. He is the owner of "Carry Me Music Publishing".
Timothy Reed's Bio
Timothy Reed, Pianist, Vocalist, ComposerTimothy Reed is a composer, pianist, singer, actor, writer, and piano and voice teacher. In 2010, he released a CD entitled "Euphoric Owls", which alternates between solo piano and piano with what he calls "ethereal voices". Imagine George Winston meets Schubert and Chopin, often with soaring vocals, with Tim and the amazing Brown Sisters: Lauren, Lilly, and Jenna, ages 22, 19, and 16.

In January 2011, at The Buskirk Chumley Theater in Bloomington, Indiana, Tim presented his "Euphoric Owls" CD Release Concert. The concert featured Tim, The Brown Sisters, and special guests Dan Reed, Buff Brown, Ariel Simpson, Amanda Biggs, and Brian Allen, with stage direction by David Wade, light design by Jacob Lish, and sound design by Chip Reardin. This concert featured music from the "Euphoric Owls" CD, and songs from Tim's upcoming CD, to be released in 2012. This new CD will have comedic and serious songs, written or co-written by Tim. Imagine a combination of Arlo Guthrie, Regina Spektor, Pat Metheny, and Johann Sebastian Bach, if you can! The January show also featured a couple comedic skits: imagine Victor Borge meets Saturday Night Live!

FUTURE POTENTIAL MEETINGS at this LOCATION (Potential new location to be announced):

Molly Malone's Irish Pub & Restaurant 933 Baxter Avenue
Louisville, KY 40204
(Call them for directions if you get lost on the way.) (502) 473-1222)
MAP: (Visit their webpage and click the link for the map).

KCC has over 6,800+ members in over 65+ different countries around the world. We want to welcome you to become involved too. SEND YOUR EVENTS (Casting/crew calls, festivals, premieres, etc) FROM ANYWHERE IN THE WORLD.
PLEASE: if you reply to this email, then DELETE THE NOTE for your reply. I already know what this note says and it fills up my account too quickly when folks reply with this note included.





They now have maps that expire after the session is finished, but you can place your address into the bottom of that webpage and it will print a new map and directions for you.

2012 CINEMATOGRAPHY FESTIVALS / EVENTS
IN KENTUCKIANA REGION AND BEYOND
This list is not always in chronological order due to overlapping dates of events. Please read all events. Some events need the future dates to be posted on their own sites so we can update the links below. As adding these links is rather time consuming, we have listed those links on this page so everyone can still locate and encourage those other sites to update their pages and information.
Some Kentuckiana Film Festivals use "WITHOUT A BOX" for submitting your films to their festivals. Review the local and regional festivals here to see which ones interest you.

"Without A Box" Independent Movie Makers' Network
"Without A Box" DEMO

*************************************************************

OTHER LOCAL EVENTS:

We Need Your Face In A Movie! New "Fall Festival" Scenes Wednesday, 7 Nov 2012 & Saturday, 10 Nov 2012.

To take advantage of the warm weather, we have postponed our night shoots this Friday & Saturday, and replaced them with DAYTIME SHOOTS, Wednesday 7 November 2012, 9:15 a.m. - 5:30 p.m. EST.; and Saturday 10 November 2012, 9:30 a.m. - 5:30 p.m. EST.

These will be fun festival scenes at a vineyard, where the lead actor meets the love of his life. Families welcome (though may be a long day for very small children). All ages & all ethnicities wanted. Bring your friends & have a fun day together being in the movies. WORK ONE DAY, OR AS MANY AS YOU WANT. $25/day per person (any age) plus meals and refreshments.

Location:
BROAD RUN VINEYARD
10601 Broad Run Road
Louisville, KY 40299
(off I-265 Billtown Road Exit)

Wednesday, 7 November 2012 from 9:15 a.m. - 5:30 p.m. EST.
Saturday, 10 November 2012 from 9:30 a.m. - 5:30 p.m. EST.

New Night shoots:
Friday, 16 Nov 2012 from 5:30 p.m. EST.
Saturday, 17 Nov 2012 from 5:30 p.m. EST.

Grab a group of friends and make each shoot a party! Casual or upscale casual clothes. No sequins, very bright colors, logos, busy patterns or writing on clothes. Bring coats to stay warm in between shots. Come join the fun. Please repost to any friends and family and actors you know. Then join us next week for our indoor CONCERT SCENES! Be paid, entertained, fed AND be in a movie!

Hundreds of adult extras who look 14 years old and up, all ethnicities, needed for the EXCITING CONCERT SCENES. Indoor scenes, but earth tones and blacks work best.

BIG CONCERT SCENES
Monday 12 Nov 2012 DAY SHOOT
Tuesday 13 Nov 2012 DAY SHOOT
Wednesday 14 Nov 2012 DAY SHOOT
"The Block," Southeast Christian Church
920 Blankenbaker Parkway
Louisville, KY 40243

PLEASE POST ON YOUR FACEBOOK PAGE OR SHARE WITH ALL YOUR FRIENDS!

Vin Morreale
VSM Entertainment/ VSM Casting
502-608-3364 / 310-601-6288
http://www.vsmentertainment.com

___________

PLEASE MENTION YOU SAW THIS NOTE FROM THE KENTUCKIANA CINEMATOGRAPHY CLUB (KCC) WHEN YOU SHOW UP/EMAIL/CALL. KENTUCKIANA CINEMATOGRAPHY CLUB (KCC)

*************************************************************

OTHER LOCAL EVENTS:
"Goose's gold" by Charlie White, Louisville Courier Journal, 2 March 2011
Be sure to read this wonderful article about Brennan's famous cousins, Jockey Roscoe Goose and his younger brother, Jockey Carl Seay Goose "Ganz." Roscoe won the 1913 Kentucky Derby in the same year his brother won the Kentucky Oaks horse race.
*************************************************************

OTHER LOCAL EVENTS:
ADDITIONAL NEWS
Brennan has been involved in motion pictures, Television, and media dating back to the early 1970s when he was first involved in shows produced at WLKY TV-Channel 32 (formerly an ABC affiliate) in Louisville, Kentucky. Brennan was first paid as a videographer as far back as 1985. He is an paid actor in the new full-feature Walt Disney film "Secretariat" released nationwide, in theaters near you, in October 2010.

BEFORE YOU PLAY THE PREVIEW, IF YOU LOOK TOWARD THE BACK OF THIS IMAGE, BRENNAN IS STANDING ABOUT THREE FEET TO THE RIGHT OF THE BRIGHT LIGHT AND WEARING A DARK SUIT WITH A BLUE SHIRT AND A BLACK HAT. (ALMOST DEAD CENTER OF THE PHOTO)

NEWS: KCC's very own, Actor: Brennan James Callan is in Walt Disney's film released in October 2010. http://www.youtube.com/watch?v=UKmuvjL2cVw

1:30/2:31 (Look for him toward the back of the room, two people to the right of the spot light--in a dark suit with a light blue shirt and dark blue tie and a Fedora hat).

2:23/2:31 (Look for him toward the right side of the press box--, two people are just below his face--in a dark suit with a light blue shirt and dark blue tie and no Fedora hat this time).

DON'T BLINK if you want to see Brennan! In fact, the editing is so swift that anyone wanting to see Brennan in the preview will have to navigate frame by frame to see him and know where he is in the shot...but he is there! In the motion picture, Brnnan shows up in several shots.

Brennan appears on the film as both an "Upper Class Gentleman" (appears in the Grandstands and in the Paddock areas of Churchill Downs) and as a "Sports Writer/Photographer" (appears in the tunnel as the horses emerge onto the race track at Churchill Downs, and Brennan is the absolute last person (photographer) seen as the "Secretariat" horse & jockey enter the track and the steady-cam follows the horse onto the track. Four all four days of the shoot at Churchill Downs, Brennan was in the same suit, so you will recognize him. Everyone had to wear the same cloths due to continuity.

As multiple angles were shot of each scene, Brennan appears in multiple angles of these shots.

This film was shot at Churchill Downs, in Louisville, Kentucky, USA (home of the Kentucky Derby); in Keeneland Race Track--in Lexington, Kentucky, USA, and then other locations in Louisiana as well as non-race track locations in those cities. See the film for a full list of credits.

*************************************************************

OTHER LOCAL EVENTS: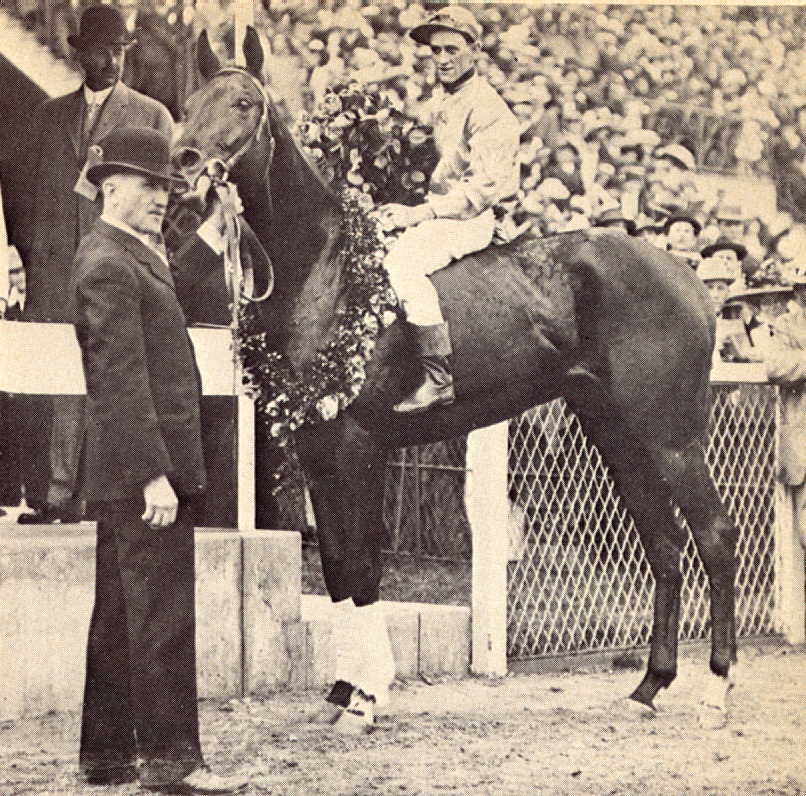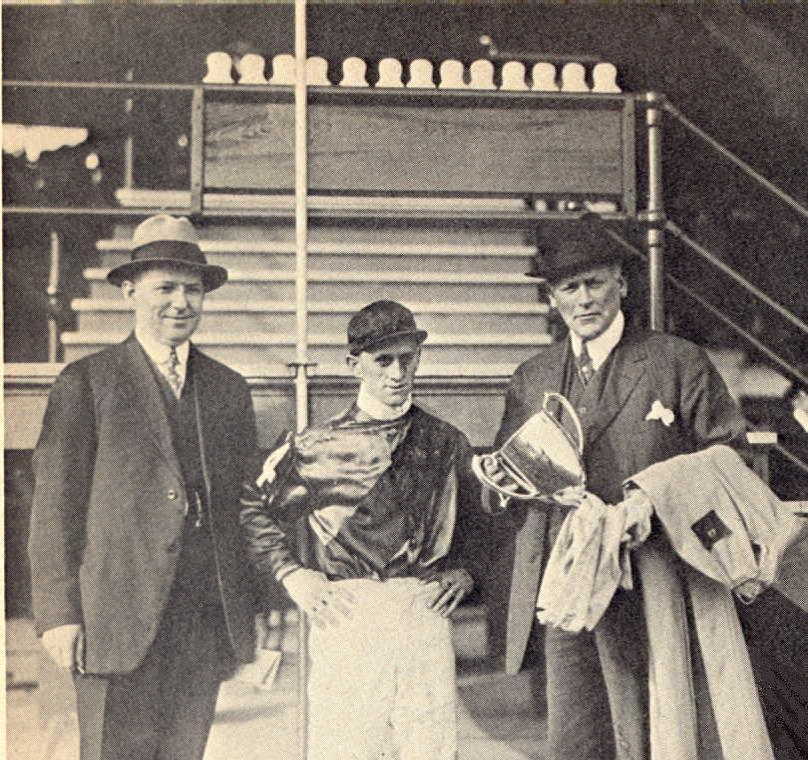 http://www.brennancallan.com/fam1.html#Roscoe
SEEKING VIDEO/FILM/NEWSPAPERS/OTHER MEDIA FROM THE FOLLOWING HORSE RACES: 1913 Kentucky Derby 1913 Kentucky Oaks 1915 Kentucky Derby 1916 Kentucky Oaks 1917 Kentucky Derby and any of the other events listed below:
Please write Brennan at bc@brennancallan.com These races are ones that Brennan's cousins, Jockey Roscoe Goose and Jockey Carl Goose "Ganz" rode in over their racing careers.
-------
Roscoe Tarleton Goose-b. 21 January 1891-d. 14 June 1971 Won 39th. Kentucky Derby, 10 May 1913-Jockey (horse: Donerail [Post position: 5] [1 1/4 mile 2:04 4/5-track record until 1914]) Won 42nd Kentucky Oaks (Grade I) in 1916 (horse: Kathleen)(Just 3 years after his brother Carl Goose (Ganz) won the race. 3rd place in 37thKentucky Oaks (Grade I) in 1911 (horse: Ilma)(Just 2 year before his brother Carl Goose (Ganz) won the race. Won Bourbon Handicapin 1911 (horse: Ozana) Spring Meet-Leading Jockey of 1911, 15 wins. 4th place in 38th Kentucky Oaks (Grade I) in 1912 (horse: Pliant)(Just 1 year before his brother Carl Goose (Ganz) won the race. Fall Meet-Leading Jockey of 1912, 8 wins. Won Debutante Stakes (Grade III) in 1913 (horse: Robinetta). His brother Carl won this race in 1912 5th place in 39thKentucky Oaks (Grade I) in 1913 (horse: Ballyshe)(His brother Carl Goose (Ganz) won the race. Won Clark Handicap Stakes (Grade II) in 1913 (horse: Buckhorn) Won Falls City (Grade III) in 1914 (horse: Leochares[Gelding-8th place 1913 KY Derby]) Won Bashford Manor Stakes (Grade II), in 1915 (horse: Ellison) 41st. Kentucky Derby, (10th place) May 1915-Jockey (horse: Ed Crump) Won Cherokee Handicap in 1915 and 1916 (horse: Sleeth) Fall Meet-Leading Jockey of 1915, 12 wins. Spring Meet-Leading Jockey of 1916, 26 wins. Fall Meet-Leading Jockey of 1916, 14 wins. 43rd. Kentucky Derby, (12th place) May 1917-Jockey (horse: Green Jones) Won Frank Fehr Stakes in 1917 (horse: Sleeth) Won Juvenile Stakes in 1917 (horse: Dr. Shafer) Spring Meet-Leading Jockey of 1917 (Roscoe tied with B.Kleiger), 11 wins.
As a trainer, he won the Winnercomm Handicap Stakes (Grade II), in 1939 (dead heat) (horse: Kings Blue. (Jockey: Charles Kurtsinger) Kentucky Oaks (Grade I) Year Horse Finish 1911 Ilma 3rd 1912 Pliant 4th 1913 Ballyshe 5th 1916 Kathleen 1st Kentucky Derbies (Grade I) Year Horse Finish 1913 Donerail 1st 1915 Ed Crump 10th 1917 Green Jones 12th
1913 Derby: Start good and slow. Won driving; second and third same. DONERAIL, showing startling improvement over his Lexington form, was restrained to the stretch turn, where he moved up with a rush, and, under punishment, drew away in the last sixteenth. TEN POINT showed superior speed for the first mile, tired in the last eighth and was distressed at the finish. GOWELL made a fast and game stretch effort. FOUNDATION raced with TEN POINT to the stretch, then tired. YANKEE NOTIONS ran prominently to the homestretch and tired in the final drive. LEOCHARES was hopelessly beaten. Scratched - Prince Hermis, Sam Hirsch, Flying Tom, Floral Park.
View The 1913 Media Guide Chart PDF "Derby Day, Louisville, Ky. Kentucky's famous racing event" This post card was mailed in 1914, so it is highly likely that it had been made in 1913, the year Roscoe won the KY Derby. Roscoe Goose was born and raised in Jeffersontown, Kentucky on 21 January 1891. Roscoe was a jockey, horse trainer, thoroughbred owner, and mentor/trainer of many famous jockeys (e.g. Charles Kurtsinger, Eddie Arcaro, Eugene James, Gilbert Elston, and others). He was one of the first ten men named into the Kentucky Hall of Fame. National Jockeys Hall of Fame in 1968. Roscoe is buried at Cave Hill Cemetery in Louisville, Kentucky.
RACING RECORDS His 1913 win of the Kentucky Derby set several new records, it was a new track record for that distance, it was the first time that a Louisville native "local boy" won the Derby, it had the largest crowd that year for attendance up to that point, and this Derby was the first to have BOTH a jockey and horse transported in just for the specific race all the way from New York. It set a track speed record 2:04 4/5 for 1 1/4 mile that stood until 1914. He holds the record at Churchill Downs in Louisville, Kentucky for having the highest odds (100 to 1) to have ever won the Kentucky Derby.
RESOLUTION WHEREAS Roscoe Goose gained lasting fame by riding Donerail to win the Kentucky Derby of 1913 and to set an all-time record payoff of $184.90, and ...
WHEREAS Mr. Goose graduated from the ranks of the riders to become a highly-respected trainer and owner of Thoroughbreds, and
WHEREAS Mr. Goose, while acting as a trainer and owner, took special interest in young boys wishing to learn the riding profession, even taking them into his home and clothing them and feeding them, and produced such notable riders as Charles Kurtsinger and Eugene James, who rode winners of the Kentucky Derby, and ... Gilbert Elston,
WHEREAS Mr. Goose has for more than 20 years served as an unofficial host to visiting turfwriters covering the Kentucky Derby, has given unsparingly of his time to provide information and help of all kinds to these writers, especially the new and uninitiated, and in all these years has shown himself to be a thorough gentleman and an example of all that's good in racing: be it
RESOLVED, That the National Turfwriters Association recommend to the National Jockeys Hall of Fame, the early election to that honored group of Mr. Roscoe Goose. (Passed unanimously by the National Turfwriters Association in annual meeting at Churchill Downs, Wednesday, May 1, 1968). Roscoe rode his first meet at Churchill in the spring of 1908, and his last in the spring of 1917. After retiring from riding in 1918, Roscoe became a successful trainer. In 1939 and 1940, he won stakes races with the horses: Kings Blue, Lightspur and Blue Delight. He also was active in helping up and coming jockeys, one of which was Charley Kurtsinger who rode 1937 Triple Crown winner War Admiral.
-----------
Carl Seay Goose (Ganz)-b. 1893-d. 15 October 1915 Won 39th. Kentucky Oaks (Grade I), May 1913-Jockey. (horse: Cream) 39th. Kentucky Derby, (NA: place) 10 May 1913-Jockey. (horse:???)(SCRATCHED BEFORE RACE) Won The Tobacco Stakes in 1910 (horse: Longhand) Won Louisville Handicap in 1910 (horse: Ben Double) Won Debutante Stakes (Grade III) in 1912 (horse: Briar Path). His brother Roscoe won this race in 1913 Won Cherokee Handicap in 1912 (horse: Volthorpe). Roscoe won this race in both 1915 & 1916 on (horse: Sleeth).
Carl is the brother of Roscoe T. Goose. Carl Goose was born and raised in Jeffersontown, Kentucky and also in Louisville, Kentucky. He was a jockey and horse trainer. He died in a racing accident. Carl is buried in the same section as his brother Roscoe and other family members, at Cave Hill Cemetery in Louisville, Kentucky. Carl didn't have a riding helmet and most jockeys didn't at that time. His death served to motivate Roscoe to champion the cause of getting all jockeys to wear helmets, then for those helmets to become a part of the normal equipment worn as a standard requirement for racing. Roscoe also saw that necessary improvements were made for safety standards to increase the quality of the helmets too.
Carl first rode at Churchill in spring of 1910, and his last meet was fall of 1915. He was even scheduled to ride in the 39th Kentucky Derby, against his brother Roscoe in 1913, but for a reason I have yet to learn, Carl's horse was scratched before the race. Carl's fatal accident was at Latonia Race Course in 15 October 1915. He rode at Churchill in 1915 and there is a historical record of the same in their card file. Although Roscoe did champion quality headgear for jockeys as a result of the accident, I found nothing discussing his invention of any type of helmet.
**************************************************************

OTHER LOCAL EVENTS:
KENTUCKY FILM OFFICE NEWS AND JOBS
**************************************************************

OTHER LOCAL EVENTS:
INTERNATIONAL FAMILY FILM FESTIVAL
? MARCH 2013
The International Family Film Festival (IFFF) has again extended the Extended Deadline for film and screenplay submissions to January 2013.
"A large number of filmmakers and writers have expressed interest in submitting their newest projects to the IFFF and simply need the extra month coming out of the holidays," said IFFF film programmer and co-founder, Patte Dee McKee. "Both the executive staff and film jury agree that by extending the deadline, a more diverse and robust family film offering will be presented come next March."
As a reminder to support the IFFF, please check out the Store on the IFFF website for gift ideas, AND the eBay auction for the 2012 Alaska Fisherman's trip that is now active. It's a fantastic experience at a great value and it too, helps support the IFFF.
VOLUNTEERS NEEDED
If you are interested to volunteer for the IFFF, please contact our office and join our growing family of family film enthusiasts and professionals. You choose your hours, and IFFF needs greeters, ticket takers, ushers, reception staff and individuals that are familiar with social networking and handling computer projects.
From the entire IFFF staff and Board, Happy Holidays to all!
Fed ID#95-4464954
International Family Film Festival
Go to www.iffilmfest.org for entry information
Call a 'live' person at 661-257-3131 or 818-230-2572
Chris Shoemaker, Executive Director
Patte Dee McKee, Program Director
**************************************************************

OTHER LOCAL EVENTS:
ArtsBookUSA NEWS FROM THE ARTS COUNCIL OF LOUISVILLE - A great opportunity!
Are you listed in theArtsBookUSA Artist Directory? Find out "Who's Who" in this expanded international marketing database directory. Every artist has a secured password and a watermark on any uploads made into their photo gallery with an edit function.
This is an aggregate database in real-time. It is provided as a consumer resource with marketing potential. The directory is for all cultures and artistic disciplines. The Arts Council of Louisville launched this extraordinary arts opportunity in cooperation with Gordon Communications' secured database technology with their copyright. ArtsBookUSA is supported by the University of Louisville College of Arts and Sciences. All artists are eligible during the open enrollment effective 9 November 2011. Sign up today for your listing online. Copy the following link into your browser to sign-up. http://louisville.artsbookusa.com/dsp_ArtistSignUp.php ArtsBookUSA
Welcome to the ArtsBookUSA Artist Directory and its new expanded world-wide opportunity for all artists everywhere. You'll have technology to link your art-making through the Internet. This super network is engaging you to become involved in a creative arts economy with potential opportunities. You'll have technology tools to manage your marketing endeavors. You're invited to join "a great creative community." The ArtsBookUSA directory is offered in our website. Review this fantastic site at www.artslouisville.org.
Forward the ArtsBookUSA announcement in this email to your colleagues, friends and personal contacts. Remember, this is a FREE Arts Opportunity! Thank you for helping to share your artistic talent with the world through music, painting, photography, sculpture, theater, dance, poetry and all other forms!
Explore, Experience and Enjoy the many disciplines. Look for visual and performing artists, arts organizations, museums, galleries, arts education resources and arts venues. The Arts Technology person for ArtsBookUSA will email you your password.
Business donor banners are now available as website links and will be located listed in the ArtsBookUSA. Artists can also add links to their page. Get ready to list and be included. Link your art beyond our borders! For additional inquiries call (502) 585-9525 or email: Louisvillearts@aol.com
**************************************************************

OTHER LOCAL EVENTS:
Department of Travel and Tourism
Ky. Civil War Heritage Trails Sites Announced
Contact Information: Kimberly Clay
502-564-4930
As the nation observes the 150th anniversary of the Civil War, a new state program to link Civil War sites throughout Kentucky will help visitors and residents understand how the conflict shaped a state torn by the war.
The Kentucky Civil War Heritage Trails program was unveiled last weekend at the 149th anniversary of the Battle of Perryville. Besides battlefields and other war sites, the program includes a new website, www.kentuckycivilwartrails.org, which features maps, a monthly listing of commemorative events and a blog providing interpretive information.
"The trails initially include more than 50 sites that are ready to receive visitors, have historical interpretation and are near to major routes for both in-state and out-of-state travelers," said Tourism, Arts and Heritage Secretary Marcheta Sparrow. "More sites will be added to the trails as they meet these criteria."
Rather than running in one continuous route, the trails provide clusters of sites that can be visited conveniently in various regions of the Commonwealth, said Kimberly Clay, cultural heritage tourism director with the Department of Travel and Tourism.
"We believe the trails will attract visitors from outside the state who aren't necessarily Civil War buffs, but who want to learn more about what happened here," said Clay, who has worked with officials from the Kentucky Historical Society, Heritage Council and the Transportation Cabinet to coordinate the project.
The initial sites include:
1. Abraham Lincoln Birthplace National Historical Park (Hodgenville)
2. Abraham Lincoln Boyhood Home at Knob Creek (Hodgenville)
3. Ashland, The Henry Clay Estate (Lexington)
4. Battle of Ivy Mountain (Prestonsburg)
5. Battle of Richmond (Richmond)
6. Battle of Sacramento (Calhoun)
7. Battles of Cynthiana (Cynthiana)
8. Camp Nelson (Nicholasville)
9. Cave Hill Cemetery (Louisville)
10. Civil War Fort at Boonesboro (Winchester)
11. Columbus-Belmont State Park (Columbus)
12. Cumberland Gap National Historical Park (Middlesboro)
13. Farmington Historic Plantation (Louisville)
14. Fort Duffield (West Point)
15. Fort Heiman (Calloway County)
16. Fort Hill (Frankfort)
17. Fort Smith (Smithland)
18. Frankfort Cemetery
19. Frazier International History Museum (Louisville)
20. Freedoms Underground Railroad Museum (Maysville)(Covington)
21. Green Hill Cemetery (Frankfort)
22. Hardin County History Museum (Elizabethtown)
23. Hunt-Morgan House (Lexington)
24. James A. Ramage Civil War Museum/Battery Hooper (Fort Wright)
25. Jefferson Davis Birthplace State Historic Site (Fairview)
26. Lexington Cemetery
27. Lexington History Museum - statues at old courthouse
28. Lincoln Homestead State Park (Springfield)
29. Lincoln Memorial at Waterfront Park (Louisville)
30. Lincoln Museum (Hodgenville)
31. Lincoln Statue in downtown Springfield
32. Lincoln statues in downtown Hodgenville
33. Lloyd Tilghman House and Civil War Museum (Paducah)
34. Mammoth Cave (Cave City)
35. Mary Todd Lincoln House (Lexington)
36. Middle Creek Battlefield (Prestonsburg)
37. Mill Springs Battlefield (Nancy/Somerset)
38. Munfordville Battlefield and Rowlett's Station (Munfordville)
39. National Underground Railroad Museum (Maysville)Center (Maysville)
40. Old Bardstown Village Civil War Museum (Bardstown)
41. Old Fort Harrod State Park (Harrodsburg)
42. Old State Arsenal (Frankfort)
43. Old State Capitol (Frankfort)
44. Perryville Battlefield State Historic Site (Perryville)
45. Riverview at Hobson Grove (Bowling Green)
46. Shaker Village at Pleasant Hill (near Harrodsburg)
47. Spalding Hall (Bardstown)
48. State Capitol Rotunda (Frankfort)
49. Tebbs Bend Battlefield (Campbellsville)Greensburg (community)
50. Thomas D. Clark Center for Kentucky History (Frankfort)
51. Waveland (Lexington)
52. White Hall State Historic Site (Richmond)
53. Wildcat Mountain (London)
54. Women of the Civil War Museum (Bardstown)
The Kentucky Department of Travel and Tourism is an agency within the Tourism, Arts & Heritage Cabinet, which promotes the Commonwealth as a travel destination. Tourism in Kentucky has an economic impact of $11.3 billion, employs about 170,000 people and generates $1.2 billion in taxes.
**************************************************************

OTHER LOCAL EVENTS:
Hello,
I'm writing to let you know about 'Cars In Film Film Festival 2013'!
Please, "Join Our Film Car Club and be a Friend of the Festival...and a Festival Angel!" Please help our festival support independent film, the filmmaker, and diversify the voices in our film community!
Cars In Film Film Festival, a non-profit entity, is doing many things as well as providing for important charities and bringing jobs and tourism to our economy. So, the larger the festival the larger our contribution to society. One of our festival's purposes is to discover, honor, and point out a jury's best recommendation as honor recipients in a well accredited and attended festival. This includes screenings, educational symposia and gala awards events...and so much more. At the same time we are celebrating the filmmakers we are building a source for economic support and jobs for both the film industry arena and the local area as well as a large contribution fund for two notable charities.
Similar to other film festivals, we create jobs year around from preproduction, into the event's actual production, and then answering financial responsibilities such as donations and community outreach well after the event is over....and then we start, again. However, our festival's premier goal is to celebrate filmmaking with attention to motor vehicles...making our California scene, "The Land Of The Car," our backdrop and supporting platform for 24 thousand festival attendees! Just think of the jobs that will help create!
It is you who allows us a larger outreach for Industry Relations, Marketing and Sponsorship, Advisory Board and Jury development, Symposia Panelists outreach, civic agency and film commission relations, and many more necessary areas of development allowing for the best credentialed film festival, one that you will have built, one that can give back to the filmmakers, film-goes, the community and to charities in need. We need and are asking you to allow us to make the biggest difference ever!
So, please take a moment to check it out on IndieGoGo and also share it with your friends. All the tools are there. Get perks, make a contribution, or simply follow updates. If enough of us get behind it, we can make 'Cars In Film Film Festival 2013' happen in a huge way.
http://www.indiegogo.com/Cars-In-Film-Film-Festival-2012?a=266401&i=emal
Most sincerely,
Jan Bursey
CARS IN FILM FILM FESTIVAL
A Winter Palace Films Presentation
Jan Bursey, Director
310 657 0446 office
janbursey@carsinfilmfest.org
http://www.carsinfilmfest.org
http://www.winterpalacefilms.com
**************************************************************

OTHER LOCAL EVENTS:
Purchase your tickets for our annual Los Angeles Awards Dinner, Saturday, February 2013 at the Globe Theater at Universal Studios Hollywood.
This year we are proud to be honoring Chad Griffin, the co-founder and Board President of the American Foundation for Equal Rights; Congressman Patrick Murphy, an Iraq war veteran who led the fight in the House of Representatives to repeal Don't Ask, Don't Tell, and Todd Parr, an acclaimed children's book author and television producer. The Awards Dinner will feature a cocktail reception and seated dinner along with live performances and appearances by notables in the world of arts, entertainment, politics and the LGBT movement.
To learn more about the event and to purchase tickets please visit www.familyequality.org/losangeles.
If you have any questions, please contact Annual Fund Manager, Elaine Lee, at elaine.lee@familyequality.org.
Peace. Love. Family. Equality.
Those are the values that the one million parents who are gay, lesbian, bisexual and transgender will share with their children and families this holiday season.
This year, our families have more reason that ever to celebrate those shared values.
Because of your support of our programs more LGBT moms and dads came together this year in a strong community that provided friendship, good advice, and support.
Because of your support of our community events, more children with LGBT parents were able to meet, play, and make friends with other children who have LGBT moms and dads.
Because of your support of our public education campaigns, more Americans came to know a family with LGBT parents—and realized how much we have in common.
And because of your support of our policy work, more of our children are safer from bullying; more schools, places of worship, hospitals and clinics, and government agencies treat LGBT-parented families with the respect that all families deserve and the law more often recognizes all the LGBT moms and dads who have made the commitment to be parents.
Together, we are creating a world where our families and ALL loving families are recognized, respected, protected, and celebrated.
Over the past 30 years we have built an approach that strengthens families in three ways:
Building our community to support parents and children
Sharing our stories to open hearts and minds
Raising our voices to create social justice for all families
Next year, we will mark the 30th anniversary of that work and the founding of Family Equality Council. As we celebrate that 30th anniversary we know that our parents and children, grandparents and grandchildren are ready to change the world for future generations of families.
On behalf of the board and staff of Family Equality Council, I wish your family a loving and peaceful holiday season with all the joys and blessings you so richly deserve.
Will you help us meet this challenge by making a tax-deductible gift to Family Equality Council now?
PO Box 206 | Boston, MA | 02133
Family Equality Council© 2012 All rights reserved.
**************************************************************

OTHER LOCAL EVENTS:
INFORMATION FROM: Michael Chapa (KCC member) about MovieBigShot Studios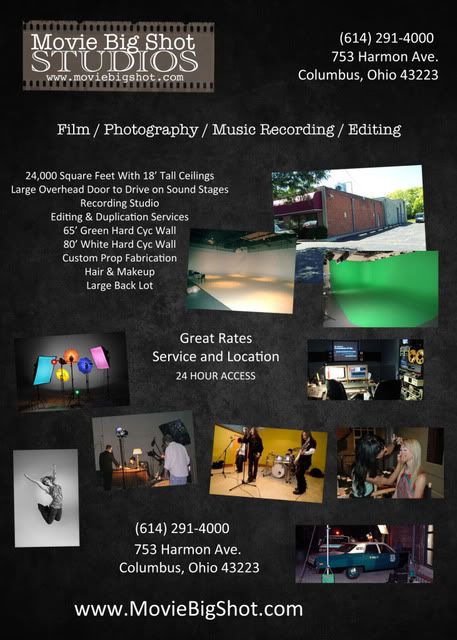 Photography • Video • Music Recording • Studio Rental. Very Large Green Screen (65') and White Screen (80') hard seamless bowl cycloramas with 18' tall ceilings and reinforced masonry floors to accommodate the weight of any vehicle. Large drive- thru door onto sound stages. Spacious sound proofed recording booth with integrated audio control room. Photography, Video and Audio daily studio rental or services for Independent Artists & Producers, Corporate, Advertising, Public Relations, Marketing, Fashion, Product, Food, Catalog, Tear Sheets, Special Events, Packaging, Food Styling, Set Construction, Custom Prop Fabrication and Photo Art Direction. Complete Video Editing Services with the capability of combining still and video sets. Movies, Television Commercials, Promotional & Music Video Production Services available.
Our Studio is centrally located on the edge of Downtown Columbus near I-71 and Greenlawn Ave at 753 Harmon Ave. Columbus, Ohio 43223. We provide excellent service and flexible hours to fit your needs.
Photography / Video Studio white screen cyc rental includes the free use of a standard lighting package which consists of radio – triggered Paul C. Bluff "White Lightning" and 'Alien Bees" strobes (plus slave units), soft boxes, umbrellas, snoots, color gels and various props for only $49 per hour.
The use of ceiling grid lights in green screen cyc studio, 2K spot lights, 3K soft box- coops and 500W strands is an additional $40 per hour.
Music & Audio Recording Sessions in the Recording Studio are $49 per hour.
Hourly rate includes various other services such as use of makeup/dressing room, work areas and wireless internet. Both studios are equipped with suspended pipes that provide stage – wide coverage, and accommodate industry – standard 2" C – clamps for hanging lights, curtains, backdrops, props, scenery, etc.
Shoot your own project with your camera and sound equipment. If needed we can provide our in house still photographer, cinematographer, videographer, sound engineer and more equipment at an additional cost. Full post production, special effects and editing services are available and will be quoted on a project by project basis.
MovieBigShot Studios
753 Harmon Ave.
Columbus, OH 43223
(614) 291 – 4000
studio@moviebigshot.com
Michael Chapa – Producer
Jeff Glasser – Photographer
Allah Ali – Recording Studio Engineer
Della Ayers – Recording Studio Manager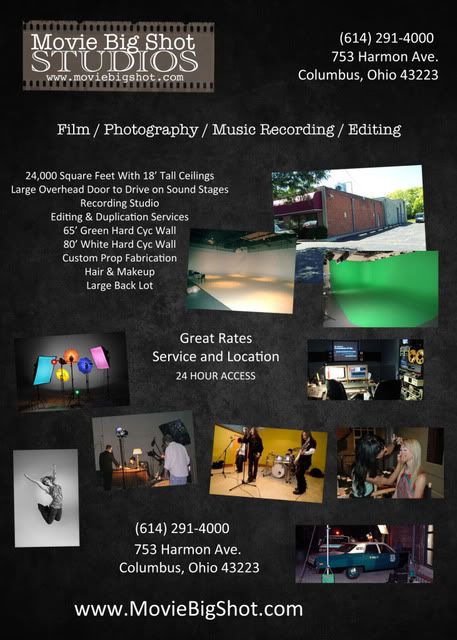 **************************************************************

OTHER LOCAL EVENTS:
The Green Building Gallery presents:
732 east market street louisville kentucky 40202 502-561-1162
http://www.thegreenbuilding.com
******************************************************************

OTHER LOCAL EVENTS:
CMT DUKESFEST 2013

DukesFest
or COOTER'S PLACE AT 865-430-9909 OR 615-872-8358
"HAZZARD HOMECOMING" BACK IN THE BLUE RIDGE
Hey Y'all,

**************************************************************

OTHER LOCAL EVENTS:

We need volunteers to work the Fairness Campaign/Kentucky Fairness Alliance!

For a volunteer shift, contact Laura Reece at laura@fairness.org or (502) 893-0788

Fairness Campaign
2263 Frankfort Avenue
Louisville, Kentucky 40206
http://fairness.org/

**************************************************************

OTHER LOCAL EVENTS:

Serious Models and Actors right here in the Tri-State. Say goodbye to out-of-market hassle and prices. If we don't have exactly what you are looking for...then we will find them.

Below are a few of the Talent we have added recently. If you think they're cute...you should see our new children talent!

Call us today. 812-480-1568
We can handle your CREW needs, too. Oh, and we have the most experienced (16 years in the industry) Airbrush Makeup Artist around.

--
Lori Rosas
http://www.LoriRosas.com/
http://www.TalentandCrewNetwork.com/
http://www.EvansvilleModelingAgency.com
http://www.TheTalentandCrewNetwork.braveblog.com
http://www.myspace.com/thetalentandcrewnetwork
http://www.facebook.com/thetalentandcrewnetwork

For am immediate response, please call or text Lori on her cell phone if you have a business need.

Providing Professional Makeup Artistry including High Definition Air Brush Makeup, Wardrobe Styling, Props, Talent Casting, Photography, Production Assistance and Crew for Film / Video / Print and Stage

**************************************************************

OTHER LOCAL EVENTS:

Louisville Insider's Guide http://www.insidelouisville.com/

*************************************************************

OTHER LOCAL EVENTS:

Globalair.com at Bowman Field (KLOU).

We have members involved with Global Air.com and this impressive business has data relating to the aviation industry that can help your motion pictures. Visit their site for more data.

**************************************************************

OTHER LOCAL EVENTS:

http://www.bunburytheatre.org/

Juergen K. Tossmann
Producing Artistic Director
Bunbury Theater Company
604 S. Third Street
Louisville, Ky 40202
(502)585-5306
(502) 640-5397
http://www.bunburytheatre.org/
CELEBRATING 24 YEARS OF THEATRICAL EXCELLENCE!

**************************************************************

OTHER LOCAL EVENTS:
KENTUCKIANA FILM CONTESTS

Campaign to reduce underage drinking Make a 30-second commercial (short) about the dangers of underage drinking. Entries due by January 2013. 215 E. High St., Lexington, KY 40507

Look for us in your school
November - December: Make your video!
* Deadline for entries!
February 2013: Online voting...New and improved!
* February 2013: OSCAR NIGHT!

**************************************************************

OTHER LOCAL EVENTS:

http://www.derbycityfilmfest.com/
DERBY CITY FILM FESTIVAL
February 2013

The Eifler Theater at The Clifton Center
Louisville, Kentucky

Submissions: No Submission Fees.

Phone: 502-618-3192
Email: derbycityfilmfest@yahoo.com

**************************************************************

OTHER LOCAL EVENTS:

A new site for Louisville has hundreds of helpful links. Insidelouisville

*************************************************************

OTHER LOCAL EVENTS:

MidnightStar Video
This will be our first effort using an e-mail touch tool. We are reaching out to all the folks like you who have helped us achieve the fast growth and success we have had by trusting us with your business. Also our Vendors and those we may have spoken to as prospective client this past year. We couldn't have done without all of you!

We have put a lot of time and effort into our business by greatly enhancing our equipment, capabilities and web presence. We will be doing more mailers in the near future that will include items such as Our New Video Releases, Special Events, Special Offers and more! We Hope to grown even more in 2011 by continuing our tradition of high quality cinematic HD video productions, exceeding customer expectations, great service, better communications and even more exposure. We now have a sign up form on our web site to get added to this e-mail communications list. So feel free to encourage any of your friends or family that may have a need or interest to log onto our our website and sign up by using the FORWARD EMAIL link at the bottom!

We send updates and special offer to our customers, freinds and prospective customer from time to time. We appreciate you taking the time to review the material and of course you may opt out at anytime.

Our mailing address is:
MidnightStar Video
513 Talbott Blvd
LaGrange, KY 40031

*************************************************************

OTHER LOCAL EVENTS:

MUSICIANS: VERY IMPORTANT: the overnight radioshow called "Coast to Coast AM" has put out a request for bumper music from indie artists like you.

Getting them your full media/teacher packet could seriously get listeners that have never heard of Woodsongs to learn about all of your ventures and productions. I really want to see you get your music on the show, but also to do a full interview with them. The fact is that your show has about the same number of radio stations, so you will do well on their show!

You should know that while they do talk about science, technology, space aliens, big foot and other related topics, they also have interviewed many musicians including Pat Boone. George Noory is a very polite and respectful host and you would get along well with him.

***************************

Visit: http://www.coasttocoastam.com/
New Music Sundays

In 2012 and on the first Sunday of each month, George Noory will play bumper music selections from emerging artists who might not be heard elsewhere. Send produced CDs and authorization to play to:

Tom Danheiser
Premiere Radio Networks
15260 Ventura Blvd. 5th Floor
Sherman Oaks, CA 91403

*************************************************************

OTHER LOCAL EVENTS:

http://www.kwalliance.org/
Exciting Design Contest
to benefit the Beargrass Creek
Mediative Urbanisms
At the invitation of the Irish Hill Neighborhood Association, KWA is sponsoring, along with District Nine Councilwoman Tina Ward-Pugh, an exciting design competition called "Mediative Urbanisms" for a a badly neglected stretch along Beargrass Creek (Jefferson County, Louisville, KY).

"Mediative Urbanisms" is an international open-ideas competition that encourages critical design approaches and debate about this post-industrial site. The competition is conceptual with the intention of advancing new ideas and ways of planning for urban lands that preserve environmental and neighborhood values.

We are asking our Louisville members to help us underwrite the cost of our $1,500 sponsorship.

Your donation will help us fund a unique, pro-active initiative to restore a significant stretch of Beargrass Creek in a way that upholds the values of its neighbors.

You can read more in the LEO article; or visit KWA's website for more detailed information. While your visiting our website, find out more about KWA's advocacy work for Beargrass Creek. Also, view our 2008 Annual Report to read about our recent accomplishments and current projects. We appreciate your support of our mission to protect and restore Kentucky's waterways!

*************************************************************

OTHER LOCAL EVENTS:
This year's Louisville Irish Fest will be returning to the beautiful Bellarmine University campus. Festival weekend will be ?? September 2012.
2001 Newburg Rd, Louisville, KY 40205-1863
*************************************************************

OTHER LOCAL EVENTS:
Somerset Community College
Somerset, Kentucky
Greeting Theater and Film People!
January 2013 Winter Shorts Film Festival Mark your calendar for events you wish to attend. http://www.somerset.kctcs.edu/CCONNECTIONS_Theater_Opportunities.html For more specific information contact me at Steve.Cleberg@kctcs.edu

*************************************************************

OTHER LOCAL EVENTS:

Little Miss and Mister, Pre Teen, Teen, Miss.
All winners advance to the KY State Fair Pageant.

Entry Forms can be downloaded off my site.

Good Luck!
love,
Denise: http://www.denisemattingly.com/

*************************************************************

OTHER LOCAL EVENTS:

Hey Everyone!

Join us on Thursday for our G3 Illustrated First Thursday Soiree!
Should be GREAT FUN. Hope to see you all there and tell your friends and family!
6 December 2012
First Thursday Soiree
2000-0000 (8:00 p.m.-1200 a.m. EST)
Louisville, KY

Save the Date! Spread the Word!

Tom Trudgeon
G3 Illustrated
BurrGeon Productions
1204 S. 2nd Street
Louisville, KY 40203
917-532-5313
Geon529@mac.com
http://www.g3illustrated.com/

*************************************************************

OTHER LOCAL EVENTS:

Dick Shore's "John Muir: Wilderness Survival" Now Booking for 2011

Dick Shore has been bringing to life the great naturalist, glacial geologist, author and environmental advocate John Muir for some 22 years now. It is intimate theater, up close and personal. It is about survival, survival of wilderness, survival of humans. It is about one making a difference, about justice, mercy and humility, about overcoming terrible obstacles. Imagine a chance to hear Muir tell of his work. Imagine him alive and well, and able to offer his insight on the work we face today. Imagine a chance to ask him YOUR important questions. Call Dick, 1-800-445-MUIR (1-800-445-6847) for a free DVD that runs 8 minutes describing his work.

*************************************************************

OTHER LOCAL EVENTS:
ARTS GRAPEVINE
News Alert
Welcome All Louisville Artists in All Disciplines
Contact the Arts Council of Louisville for an appointment to have your personal web site in the LOUISVILLE ARTS BOOK USA at no cost. (All Passwords are secured.)
CALL (502) 585-9525 or Email us today!
LOUISVILLE ARTS BOOK USA is ready for you to submit your information and photos to set-up your page. Call us for the details.
Take advantage of this advance arts technology at no cost. (Copyright 2009. Service as a cooperation between Gordon Communications and Arts Council of Louisville)
Email: chanita.taylor@yahoo.com
*************************************************************

OTHER LOCAL EVENTS:
http://www.talentandcrewnetwork.com/
The Talent and Crew Network:
Evansville's ONLY Online Casting Source for Models, Actors and Crew
* The most experienced Casting Source in the Evansville Region (http://www.LoriRosas.com/)
* Professional, Reliable and Experienced Talent and Crew
* Networking throughout the Midwest with other Talent sources / Agencies to meet your casting needs beyond Evansville
* Consistently updated Talent Profiles / Snapshots / Demos / Auditions of Talent always available
* Professional Crew Available (Makeup Artists, Grips, DPs, Producers, etc.)
* Competitive Rates / Negotiated Rates larger market Agencies
CALL OR EMAIL TODAY FOR MORE INFORMATION
812-480-1568
TalentandCrew@gmail.com
*************************************************************

OTHER LOCAL EVENTS:

Louisville Pipe Band Concert

See future events.

There will be pipes, drums, Scottish dancing, Irish dancing, and Celtic strings.

*************************************************************

OTHER LOCAL EVENTS:

THE PHOENIX (Promotional Preview) http://www.phoenixfilms.net/
http://www.eppicfilms.com/

phoenixfilms@yahoo.com

*************************************************************

OTHER LOCAL EVENTS:

Katherine Albrecht comments on Google's tracking of flu outbreaks on "Coast to Coast AM" Radio Show Katherine tells everyone about a NEW SEARCH ENGINE website that was written by former Google employees that objected to the unlawful collection of personal data and its sale. START USING http://www.cuil.com/ as CUIL will not sell your data to anyone; INSTEAD OF GOOGLE if you want to protect your privacy.

Article on Boston.com "Google.org to track outbreaks of flu
Web searches might indicate spike in cases
By Miguel Helft
New York Times News Service / 12 November 2008

SAN FRANCISCO - There is a new common symptom of the flu, in addition to the usual aches, coughs, fevers, and sore throats. Turns out a lot of ailing Americans enter phrases like "flu symptoms" into Google and other search engines before they call the doctor. That simple act, multiplied across millions of keyboards in homes around the country, has given rise to a new early-warning system for fast-spreading flu outbreaks called Google Flu Trends.

Tests of the new Web tool from Google.org, the company's philanthropic unit, suggest it may be able to detect regional outbreaks of the flu a week to 10 days before they are reported by the Centers for Disease Control and Prevention. In early February, for example, the CDC reported the flu had recently spiked in the mid-Atlantic states.

Google says its search data show a spike in queries about flu symptoms two weeks before that report came out.

Its new service at www.google.org/flutrends analyzes those searches as they come in, creating graphs and maps of the country that, ideally, will show where the flu is spreading.

Some public health experts say the data could help accelerate the response of doctors, hospitals, and public health officials to a nasty flu season, reducing the spread of the disease and, potentially, saving lives.

"The earlier the warning, the earlier prevention and control measures can be put in place, and this could prevent cases of influenza," said Lyn Finelli, lead for surveillance at the influenza division of the CDC. Between 5 and 20 percent of the nation's population contracts the flu each year, she said, leading to an average of roughly 36,000 deaths.

For now the service covers only the United States, but Google is hoping to eventually use the same technique to help track diseases worldwide.

The premise behind Google Flu Trends - what appears to be a fruitful marriage of mob behavior and medicine - has been validated by an unrelated study indicating the data collected by Yahoo, Google's main rival in Internet search, can also help with early detection of the flu.

"In theory, we could use this stream of information to learn about other disease trends as well," said Philip M. Polgreen, assistant professor of medicine and epidemiology at the University of Iowa and a co-author of the study based on Yahoo's data.

Other people have tried to use information collected from Internet users for public health purposes. A website called www.whoissick.org invites people to report about what ails them and superimposes the results on a map. But the site has received relatively little traffic.

HealthMap, a project affiliated with Children's Hospital Boston and Harvard Medical School, scours the Web for news articles, blog posts, and electronic newsletters to create a map that tracks emerging infectious diseases worldwide. It is backed by Google.org, which counts the detection and prevention of diseases as one of its main philanthropic objectives.

Google Flu Trends appears to be the first public project that uses the powerful database of a search engine to track the emergence of a disease.

"This seems like a really clever way of using data that is created unintentionally by the users of Google to see patterns in the world that would otherwise be invisible," said Thomas Malone, a professor at the MIT Sloan School of Management. "I think we are just scratching the surface of what's possible with collective intelligence."

Still, some public health officials note many health departments already use other approaches, like gathering data from visits to emergency rooms, to keep daily tabs on disease trends in their communities.

"We don't have any evidence that this is more timely than our emergency room data," said Farzad Mostashari, assistant commissioner of the New York City Department of Health and Mental Hygiene. If Google provided health officials with details of the system's workings so it could be validated scientifically, the data could serve as an additional way to detect influenza that might prove valuable, said Mostashari, who is also chairman of the International Society for Disease Surveillance."

*************************************************************

OTHER LOCAL EVENTS:

TUNECORE'S SERVICE TO ENABLE ONLINE FILM DISTRIBUTION

TuneCore has become the first film distribution company to enable production companies, film creators, labels, and bands the ability to distribute and sell movies and live concerts through outlets like iTunes for no back-end distribution fee. This new service, for distribution and digital conversion, will extend the same flat-rate model that has allowed musicians to distribute music while retaining all profits and rights. The fee structure will depend on a film or live concert's duration. For example, delivery to iTunes of a 60-minute film costs $550 and a 90-minute film is $770, with breaks for volume customers. For more, visit http://www.tunecore.com/

*************************************************************

OTHER LOCAL EVENTS:
48 Hour Film Project

http://48hourfilm.com/
Tour Starts: Event Weekends Announced
More weekends have been confirmed...keep an eye out for next month's newsletter, which will have the entire list!
************************************************************

OTHER LOCAL EVENTS:
SELL YOUR FILM ON DVD AND VOD THROUGH THE HOLIDAYS AND BEYOND
The response has been phenomenal. In the past week alone, more than 1,000 of you have signed up for our extraordinary self-distribution offer via CreateSpace, which includes free signup, setup, and proof copy. No risk whatsoever to see what it's all about. The holiday retail spike is coming up fast. Right now is the best time to get yourself set up and selling your DVD on Amazon.com, Amazon Video On Demand, and other channels, including your very own Estore. DVDs are produced when customers order, so there is no need for inventory and you don't have to hassle with order fulfillment and customer service. You set the price, and you start making money on your first sale. Your title also becomes eligible for listing on http://www.imdb.com/. Be sure to use these links when setting up your title, or login to http://www.withoutabox.com/ and look for "Distribute on DVD and VOD" next to any film title on your Account Home Page...
Create Your Free CreateSpace Account
Get More Details
*************************************************************

OTHER LOCAL EVENTS:

Steve Wiser
Cave Hill Cemetery Tours--Steve regularly leads tours of historic and scenic Cave Hill Cemetery. The cost is $25.00 per person. Call 451-5630 for reservations.
*************************************************************

OTHER LOCAL EVENTS:
21C Museum Hotel and Museum
700 West Main St.
http://www.21cmuseum.org/
The System Parking Garage is located adjacent to 21c on 7th street (705 W Market), there are stairs at the northeast and southwest corners of the facility with elevators at the northeast corner. Parking is available inside the garage but will charge $3.00 cash upon exiting; guests are encouraged to park on the streets nearby.
*************************************************************

OTHER LOCAL EVENTS:
Jenny Wiley Theater
PO Box 22
Prestonsburg, KY 41653
(606) 886-9274 - Local
(877) CALL-JWT - Toll Free
(606) 886-8875 - Fax
Jenny Wiley Theater in Prestonsburg, Kentucky is currently accepting Non-Equity headshot/resume submissions for singers, actors and dancers for leads and ensemble in the upcoming season. Jenny Wiley Theater operates in rotating repertory; therefore all actors have the opportunity for multiple shows/roles.
Send headshots and resumes to:
Casting
Jenny Wiley Theater
PO Box 22
Prestonsburg, KY 41653
or email to: marty@jwtheatre.com
http://www.jwtheatre.com/index.php?n=15&id=15
*************************************************************

OTHER LOCAL EVENTS:
The Louisville Music Industry Alliance:
http://www.lmiacentral.com/
Currently working with three Louisville radio stations, and have contacted the Courier-Journal and LEO Weekly today, to promote a concert with The Velcro Pygmies (I would open the show) on Halloween, in ROCKtober.
All proceeds will go to local Louisville charity, Stomp Out Cancer ~ I was interviewed the Friday before leaving for LA by Street Blast Radio here in The Ville, and learned of the charity, which was created by Jake Wheat, a great individual:
http://www.stompoutcancer.com/
~ Michael
http://www.MySpace.com/TheAnkhProject
http://www.SonicBids.com/MichaelStollaire
http://www.michaelstollaire.com/
info@michaelstollaire.com
*************************************************************

OTHER LOCAL EVENTS:
Shadowbox Cabaret
164 Easton Town Center
Columbus, OH 43219
614-416-7625
One Levee Way, Ste. 4101
Newport, KY 41071
859-957-7625
http://www.shadowboxcabaret.com/
http://www.shadowboxcabaret.com/auditions/
AUDITIONS listed on: MySpace URL: http://www.myspace.com/shadowboxcabaret
**************************************************************

OTHER LOCAL EVENTS:
Goth Events
Weekly.
Doors Open 1900 EST (7:00 p.m.)
Derby City Espresso
331 East Market Street
Louisville, Kentucky

Join us for excursions in Tea, Beer and Coffee. This Tuesday night the series begins with an introduction to Tea. Join us to learn and taste the differences between white, green, oolong, and black teas. We will also be discussing some of the classic tea alternatives including, rooibos (AKA red tea), yerba mate and botanical (AKA herbal) teas. The evening will also include snacks provided by Bon Vivant Savant.

******************************************************************

OTHER LOCAL EVENTS:

Announcing an online resource for stage directors:

http://www.stagedirection.org/

Would love all directors from this forum to sign up and make suggestions for sections, topics, etc

How many times as a director do you feel isolated during the process. Have you wished for a resource site that could offer suggestions, assistance, support and training?

Well it is my hope that StageDirection.org will become that resource. This site will be open to any stage directors around the world. If you belong to other mailing lists or groups that you think would find this a valuable resource, I encourage you to help me spread the word about it.

This forum has been created with the latest PHPBB Bulletin Board software, so it has additional features that you might enjoy even if you are not a director. There is an entire Arcade area with online action, board, card, puzzle and other kinds of games.

Check us out and help us grow http://www.stagedirection.org/

Thanks
Brett Mallard, Owner/Administrator

******************************************************************

OTHER LOCAL EVENTS:

AUDITIONS FOR:

Kentucky Repertory Theater
PO BOX 215
107 E. MAIN
HORSE CAVE, KY 42749
******************************************************************

OTHER LOCAL EVENTS:

Mary Pickford films on the "American Experience" TV show (PBS). See your local listings for times.
Mary Pickford Silent Film Vault on "American Experience" TV show (PBS). See your local listings for times.
The Dream (1911) (10:03)
Pickford plays the wife of a philandering man. After he comes home drunk, he has a bad dream -- that his wife has left the house for some fun of her own. When he wakes up, he realizes he should treat his wife better.
Rags (1915) (8:20)
Pickford portrays a feisty, independent woman. In this clip, she has just arrived at a refined Eastern home -- a world away from her origins in a rugged Western mining town. Women particularly identified with Pickford's spirited characters, and her fan base swelled.
Little Lord Fauntleroy (1921) (9:48)
Pickford portrays Cedric, a rambunctious, impoverished American boy who discovers he's the heir to a British fortune. She also portrays Dearest, Cedric's mother.
The film includes a legendary special effect: the two characters portrayed by Pickford kiss. "This wasn't something that was sent off to the laboratories, as happens now, or to computer-generated imagery," says film historian Kevin Brownlow. "This was done in the camera. You wound the shot back and you re-exposed it, and you had to block out the previous figure. I still don't know how they did it." As feature films grew longer and more elaborately produced, audiences embraced colorful, escapist stories like this one, and Hollywood ratcheted up the complexity of movie sets, lighting, and camera techniques.
******************************************************************

OTHER LOCAL EVENTS:
http://www.jccoflouisville.org/
RSVP: 502-459-0660.
*************************************************************

OTHER LOCAL EVENTS:
Visit Louisville Film Society
*************************************************************

OTHER LOCAL EVENTS:
Grants
http://www.kylincoln.org/grants/
Through funding made available by the Kentucky Abraham Lincoln Bicentennial Commission (KALBC), an extensive competitive grants program for Lincoln-related projects is currently being offered by the Kentucky Arts Council, the Kentucky Heritage Council, the Kentucky Historical Society, and the Kentucky Humanities Council.
These grants can be used to support a variety of themes relating to Lincoln and Kentucky, including slavery, nineteenth-century political culture, the Civil War, and Lincoln's legacy today. Potential projects include educational programs, exhibits, public art, community celebrations, speakers, classroom tools, preservation initiatives, and more.
Grants are available to museums, historical organizations, educational institutions, city and county governments, and other nonprofit organizations
The Lincoln Heritage Education minigrants are available to Kentucky public and private schools for field trips to Kentucky Abraham Lincoln sites. Education project grants are also available through that program for projects that promote Abraham Lincoln or that are related to Lincoln.
Links to applications for Lincoln Commission grant programs are available below.
Kentucky Arts Council Grant Program
Grant Program Status: Active
Kentucky Heritage Council
Grant Program Status: Active
Kentucky Heritage Council Grant Application Form (PDF-249KB)
African American Heritage Commission Grants
Grant Program Status: Active
African American Heritage Commission Grant Application Form (PDF-256KB)
Kentucky Historical Society
Grant Program Status: Active
2007-08 KHS Grant Application (MS Word 248KB)
Kentucky Humanities Council
Grant Program Status: Active
Application Deadline: Minigrants: 1st of any month and at least 8 weeks before your program.
Notification: Minigrants: Last day of each month.
Lincoln Heritage Education Grants
Grant Program Status: Active
Notification: Six weeks after grant application deadline.
Lincoln Heritage Education Grant (PDF 127KB)
*********************************************************

OTHER LOCAL EVENTS:
Filmmaking Certificate Program
Click here to see session poster or visit CLICK for more details.
TO REGISTER
You must enroll in BCTC for the semester then register for the program. This process take about 10 days. Contact Arthur Rouse at 859-255-9049 or abr@veslex.com to get started.

The Kentucky Film Lab is a non-profit organization dedicated to energizing the cinematic arts community in Kentucky with innovative approaches to education, collaboration, production and distribution.
Film Certificate Program
The Filmmaking Certificate Program at BCTC offers a unique opportunity to work with industry professionals in a master class setting. This is a one-semester, 16 credit hour, full-time program geared for emerging filmmakers at all levels of experience. The program provides a hands-on overview of all the disciplines of filmmaking, from script to screen. Working directly with industry professionals from New York, Hollywood and the Midwest, students will create a number of short pieces during the semester. Please see the attached poster for details.

The Filmmaking Certificate Program is also an excellent opportunity to explore and enhance your communicating and learning style as well as your media literacy. In the filmmaking process, you will explore linguistic, visual, aural, graphical, logistical and musical learning and communicating techniques.

Current students, undecided majors, emerging and practicing professionals and anyone interested in increasing their communication skills are urged to consider this program.

For more information contact the program founder, Arthur Rouse at abr@veslex.com

For registration information, please contact the program coordinator, Tim Davis at tim.davis@kctcs.edu or 859-246-6672

For more information about the Bluegrass Community and Technical College Filmmaking Certificate Program, visit the Website below or call Arthur Rouse at 859-255-9049

Filmmaking Certificate Program

FILMMAKING Certificate Program A one-semester, full-time, 16 credit-hour program of 15 master classes covering all aspects of filmmaking from script to screen, featuring hands-on projects taught by instructors from Hollywood, New York and Kentucky

Master Classes Include:
Screenwriting
Pre-production
Directing
Cinematography
Set Design
Lighting
Grip
Sound Recording
Editing
Post Scoring
Getting Funded
Distribution

ENROLLMENT IS LIMITED Contact Tim Davis at 859-246-6672 or tim.davis@kctcs.edu
Enrollment requires co-requisite courses for a total of 16 hours
FLM 110, 120 130 and TA 126 and TA 190 or TA 191

Classes held Monday from 1300 EST (1:00 p.m. until 1930 EST (7:30 p.m.)
And Tuesday through Thursday from 1300 EST (1:00 p.m. until 1700 EST (5:00 p.m.)
. Newly Equipped Facility
. Regency Campus--Convenient Access
. Full-Time Status
. Financial Aid Available
. Housing Options Available
. Free on-street Parking

CALL TODAY ENROLLMENT IS LIMITED
Bluegrass Community and Technical College is an equal opportunity employer and education institution. A KCTCS institution.

************************************************************

OTHER LOCAL EVENTS:

http://www.strangerseries.com/

Watch your local schedule to see episodes of the Stranger national TV series (shot in Jeffersonville, IN and Louisville, KY)

http://www.strangerseries.com/

If you have any further questions or need additional information, please check out http://www.strangerseries.com/

Thank you again for being part of this series.

Vin Morreale
VSM Productions / VSM Entertainment
http://www.vsmentertainment.com/

*************************************************************

OTHER LOCAL EVENTS:

Highland Festival

For future events and reservations call; 859-846-4530.

You can purchase your passes by calling 859-846-4530

HEAR YEE, HEAR YEE: Casting Call Dates.
CHECK US OUT ON DERBY CITY TV:
Be sure to visit the exciting pictures and video of the 4th weekend of this season at http://www.derbycity.tv or you can check it out on u-tube

*************************************************************

OTHER LOCAL EVENTS:
******************************************************************

OTHER LOCAL EVENTS:

We already have a wealth of goals ahead of us on the two streams, but perhaps we could think of interesting shots to put into a 2 minute video for that contest that would not be used in the larger video adventure documentary.

http://canoekayak.com/features/paddling-news/amateurvideocontest/

Amateur Video Contest
Paddle with Greg Barton

We're looking for sea kayaking, open boating, whitewater, rec touring, fishing, rafting, river boarding; whatever paddling action you have.

How to submit:
Video format for submission should be WMV or Quicktime.
Videos will be a minimum of 15 seconds and maximum of 2 minutes.
Content should be paddling oriented - canoeing, kayaking or rafting

Discs should be mailed to:

John Bolivar
Web Editor
Canoekayak.com
10526 NE 68th St.
Kirkland, WA 98033

CONTEST DETAILS

-Discs will not be returned.

-Videos may run at http://www.www.canoekayak.com/ for an indefinite amount of time that would extend beyond this contest.

-Videos may be used by the sponsor, South Carolina Parks and Tourism, and may be reproduced in the future in a Penstock Productions Kayak Journal episode starring the winner of the contest.

*************************************************************

OTHER LOCAL EVENTS:

******************************************************************

OTHER LOCAL EVENTS:
Call for Actors
Squire Boone: Carved in Stone

Audition Dates: (Continue to check as new productions are updated frequently)

About their shows

Clear Creek Park in Shelbyville, KY. Clear Creek Players is a community partnership with Shelby Co Community Theater, Clear Creek Park and other key community organizations. The play is written and directed by local playwright, Daniel Nation and produced by Cyndi Powell-Skellie. Auditions will consist of a cold group reading of the play and plenty of movement. Actors are asked to wear comfortable clothing. Production dates are late August and early September. Contact: Clearcreekplayers@gmail.com to set up an audition time.

Theater Information
Clear Creek Players
717 Burks Branch Road
Shelbyville, Kentucky 40065
(502) 633-5059
clearcreekplayers@gmail.com
http://clearcreekplayers.googlepages.com/

******************************************************************

OTHER LOCAL EVENTS:
Call for Actors
Frequent productions require new people throughout the year.

About the show

Washington County Actors Community Theater in Salem, IN will be holding auditions at Pied Piper Theater in Salem, IN Casting for males and females ages 13-100 Please prepare a dramatic monologue NOT from the actual show, not to exceed 2 minutes after monologues you will be asked to do cold readings from the script. Please bring a headshot and resume. For more information or directions to the theater contact diretor Bryce Blair 812-620-7663

Theater Information
Washington County Actors Community Theater
P.O. Box 61
Salem, Indiana 47167
812-620-7663
btb47167@hotmail.com
http://geocities.com/wcact

******************************************************************

OTHER LOCAL EVENTS:
Call for Actors
The Blue Apple Players have frequent calls for actors, so for the latest details, please refer to their own webpages. For further information call Paul at 502-587-7990.
Theater Information
Blue Apple Players
P.O. Box 4261
Louisville, Kentucky 40204
502-587-7990
paul@blueappleplayers.org
http://blueappleplayers.org/
SEEKING ACTORS
For the nationally acclaimed Blue Apple Players Kentucky's Professional Touring Theater for Young People Touring to Professional Theaters Throughout the Region
Call Paul at 587-7990 to set up an appointment.
For more information, please call Paul or Tim at 587-7990 (Louisville) or 1-800-587-7990.
Blue Apple Players
P.O. BOX 4261, Louisville, KY 40204 (502) 587-7990
* a not-for-profit, tax-exempt corporation *

******************************************************************

OTHER LOCAL EVENTS:
SPECIAL ANNOUNCEMENT!
For more info, visit http://www.kinseyinstitute.org/
"Buy a festival pass - it's your claim to flame!"
"Give it a few more years until PRIDE becomes the Cannes or Toronto of the Midwest." -The Herald Times
*************************************************************

OTHER LOCAL EVENTS:
Call for Actors (ongoing) and Show Schedule (constantly updating)


WhoDunnit Murder Mystery Theater
All require the ability to suppress a Kentucky accent and body language.
We are also looking for stage manager, site manager and audio tech, as well as costume and prop assistance.
Theater Information
WhoDunnit Murder Mystery Theater
Masterson's, 1830 South Third St.
Louisville, Kentucky
(502) 426-7100
*************************************************************

OTHER LOCAL EVENTS:

Photo Pro Expo
**************************************************************

OTHER LOCAL EVENTS:
---
EVENTS AWAITING UPDATES FROM THOSE SITES
---
---

Email address: bc@brennancallan.com
Disclaimer
No endorsement is intended or made of any hypertext link, product, service, or information either by its inclusion or exclusion from this page or site. While all attempts are made to insure the correctness and suitability of information under our control and to correct any errors brought to our attention, no representation or guarantee can be made as to the correctness or suitability of that information or any linked information presented, referenced, or implied.
Listings above do not constitute an endorsement by the Kentuckiana Cinematography Club (KCC); its founder; or its members; of these persons, businesses, events, or establishments. These links are enumerated for "entertainment purposes" only.
Please Note: The Kentuckiana Cinematography (KCC) web site restricts by policy its hyperlinks to other sites of quality. KCC neither controls or guarantees the accuracy, relevance, timeliness, or completeness of any linked information. Further, the inclusion of hyperlinks to web sites other than KCC web sites is not intended to assign importance to those sites and the information contained therein, nor is it intended to endorse, recommend, or favor any views expressed, or commercial products or services offered on these outside sites, or the organizations sponsoring the sites, by trade name, trademark, manufacture, or otherwise. Once you link to another web site, you are subject to the disclaimers, security, and privacy policies of the new site.
Legal - Fair Use Notice:
Kentuckiana Cinematography Club (KCC) webpages contains copyrighted material not all of which has been authorized by the copyright owner. We make this material available for the purpose of informing the public about resources on the internet.
This constitutes the "fair use" of any copyrighted material noted in section 107 of the US Copyright Law. In accordance with Title 17 U.S.C. 107, this material is distributed without profit to all who have expressed an interest in it.
Any use of copyrighted material on this site for any purpose that goes beyond "fair use" must have permission of the copyright owner.
If material or information on Kentuckiana Cinematography Club (KCC) webpages is your personal property, and you would like to have it removed, or credit given to you, please contact us.
This site contains copyrighted material the use of which has not always been specifically authorized by the copyright owner. We are making such material available in our efforts to advance understanding of environmental, political, human rights, economic, democracy, scientific, and social justice issues, etc. We believe this constitutes a 'fair use' of any such copyrighted material as provided for in section 107 of the US Copyright Law. In accordance with Title 17 U.S.C. Section 107, the material on this site is distributed without profit to those who have expressed a prior interest in receiving the included information for research and educational purposes.
For more information go here.
If you wish to use copyrighted material from this site for purposes of your own that go beyond 'fair use', you must obtain permission from the copyright owner.
**************************************************************

OTHER LOCAL EVENTS:
Louisville's International Festival of Film (LIFF)
Louisville's International Festival of Film (LIFF) is committed to screening artistic films not usually presented through commercial venues, giving independent filmmakers a place to showcase their work. The proceeds of the Festival will be used by the LFAI to help fund education efforts focused on training the filmmakers of tomorrow in Metro Louisville and the Commonwealth of Kentucky.

In addition to film screenings, the festival will host a variety of seminars, events and parties designed to provide Kentuckians and industry visitors alike the opportunity to become involved in the future of the Film Industry in Kentucky. We believe that an annual festival will promote Kentucky and Metro Louisville as a destination point for film production drenched in hospitality, arts and culture.

The 2011 Festival will begin September 2013.

VISIT: http://louisvillefilm.net/

**************************************************************

OTHER LOCAL EVENTS:
"THE B MOVIE CELEBRATION"
September 2013
Franklin , Indiana
www.bmoviecelebration.com

For further information:

THE B MOVIE CELEBRATION
111 East Monroe
Franklin, IND 15216 USA
info@indyfilmco-op.org
www.bmoviecelebration.com

**************************************************************

OTHER LOCAL EVENTS:

September 2013

Kentucky Center for the Performing Arts, Lousiville, KY http://www.ideafestival.com/

LOOK FOR THE Kentucky Film Lab, a new non-profit enterprise dedicated to creating and supporting a community of filmmakers and multimedia artists, has announced its formation. It will be led by three experienced film professionals, Brad Riddell, Arthur Rouse and Mark Shepherd and supported by an advisory board of successful filmmakers and multimedia professionals from Kentucky, New York, Los Angeles and San Francisco.

Activities will include filmmaker institutes, screenwriting workshops, film forums, educational programs, festivals and film production.

KFL emerged from the successful Filmmaker Labs held by the ideaFestival Institute since 2002.
---
FILM MAKERS, ACTORS, AND ANYONE INVOLVED IN THE ARTS: you need to continue to update your programs so that you can communicate with the folks that also use the latest versions of their programs.



---