If Roy "Tin Cup" McAvoy (KEVIN COSTNER) had played it safe, he might have been golfing on the pro tour instead of giving lessons at a driving range in the tiny West Texas town of Salome.
Had he played it safe, he might still be dating Doreen (LINDA HART), the owner of a profitable exotic dancing establishment, instead of becoming hired help at his own place of business -- which he lost to her on a sucker bet. If he'd played it safe he wouldn't be sacrificing his dignity to David Simms (DON JOHNSON), a PGA star and longtime rival, by accepting a job as his caddie.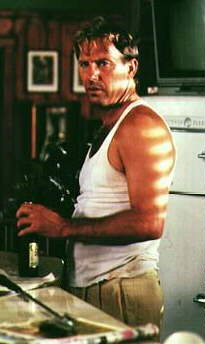 Tin Cup should have controlled what his best friend, Romeo Posar (CHEECH MARIN), called his "inner demons." When Dr. Molly Griswold (RENE RUSSO) walked onto his green, he should have settled for giving the lady psychologist golf lessons and never allowed those demons to lead him into falling in love with her.
But something about her rational mind, her sharp wit, her long legs ... something about the completely unexpected electricity between his small-time self and her big-city polish makes it clear to Tin Cup that once again, he's not going to play it safe. Even though Molly Griswold is already David Simms' girlfriend.
Roy "Tin Cup" McAvoy has to win Molly Griswold with a gesture so grand, a triumph so complete that nothing less than her undying adoration would be an appropriate response.
And suddenly, inspiration strikes: the way to regain his dignity, his driving range and the attention of the woman with whom he is by now stammeringly smitten, is simple: All Roy has to do is win the U.S. Open - the most difficult tournament in the pro golfing world.