Friday, 6 September 20041>
Kentuckian films story of St. Joe College
---
By Judith Egerton 6 September 2004
jegerton@courier-journal.com
The Courier-Journal


Director John Coulter kept a young actor occupied during a rain delay in the filming of "Saint Joseph College."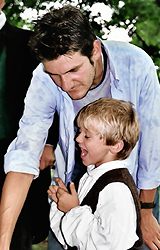 Photo by Jeremy Ellis
---
It took more than three years, about $20,000 and roughly 150 actors and extras willing to work without pay. But John Coulter has nearly finished a project that people said he could never accomplish.
Over Labor Day weekend, the Bardstown, Ky., director and cinematographer shot Civil War scenes involving the Battle of Perryville on a Nelson County farm with 50 actor-soldiers and 20 horses.
They are the final shots of his ambitious docudrama, "Saint Joseph College," which spans nearly a century.
The focus of the production is Bardstown's St. Joseph College, which opened in 1819 after the arrival of Roman Catholic Bishop Benedict J. Flaget, who established the first inland Catholic diocese in the United States. The college is on the National Historic Register.
Coulter, a 26-year-old production manager for PLG-TV in Bardstown, is co-producing the film with his wife, Anna. PLG's parent company, Standard Communications, which is owned by Landmark Communications, has provided funds for the project.
The movie begins in the early 1800s and traces St. Joseph's history through stories about people who had relationships with the college, such as 19th-century politician Cassius Marcellus Clay of Madison, Ky., who Coulter said was "a trouble-maker" at St. Joseph, and soldier-poet Theodore O'Hara of Danville, Ky., author of the poem, "Bivouac of the Dead."
Many local people volunteered their help to make the movie, including former Bardstown radio personality Scott Cederholm, who narrated the script, which was written by Holly Cecil, a reporter at the Kentucky Standard newspaper.
"It's been a long process with one camera. It's about killed my wife and I," Coulter said late last week as he prepared for the Perryville battle scenes.
"Everybody said it couldn't be done, but we're doing it. There's a lot of independent film being done, but I don't know of anyone doing a film that covers 100 years with 100 people and costume changes over the years. I think it's really unique."
For two critical areas of the project, Coulter hired professionals with Hollywood experience.
Robin Fields, who worked on "The Shawshank Redemption," helped design and create the period costumes. And Morgan Raque, a Kentucky native who coordinates riding scenes for movies and TV productions, helped Coulter stage the movie's battle scenes.
Raque played one of Mel Gibson's militiamen in "The Patriot" and was the crew chief in charge of battle scenes in "Ride With the Devil."
Coulter said his movie was shot on digital video and will be edited to somewhere between 90 minutes and two hours. He hopes that film festivals, PBS or the History Channel will be interested in it.
He's already looking ahead to a second movie that will tell the story of St. Joseph College in the 20th century.
Raque said he was impressed with the work Coulter has done on a miniscule budget.
"This project has had its trials and tribulations ... but he has a heck of an eye. And there are lots of stories to be told here. I'm looking down the road because this young man has a wealth of talent and energy."
http://www.courier-journal.com/
---